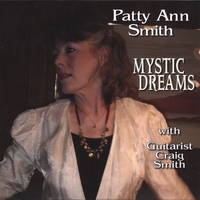 Patty Ann Smith
Carolina artist, Patty Ann Smith, has released her new CD, and it's a winner! Follow that link and score a copy for yourself. You'll be glad you did.
Patty sings 11 songs, 7 of which are original, and 4 are classic traditional folks songs. And as good as the traditional songs are...I think her original songs are even better. They really stick in your mind and heart. Simply beautiful! And her husband's guitar work is most excellent as well.
A perfect collection, and a great addition to the library. I'm proud to call her my friend.
From the CDBaby website:
Songs of hope in a bouquet that is rooted in my Irish-American
history of balancing struggle with the joys of music. One of the songs, "Before
He Went To War", was written in honor of my brother, Bob, who served in the
Vietnam War and died in 2003. This and six other songs I wrote that are on my CD
"Mystic Dreams" are statements about the human condition originating from the
lives of ordinary people like myself.

Also, going along with the folk
traditions in a Celtic heritage, I like to be outdoors in nature where naturally
magical things are occurring every minute...even though we don't usually see
them. That's probably why the leprechauns came into being...to help us to dream
and imagine and continue to be creative.

I came from an era that thought
it was on the verge of changing the course of history by transforming the world
into a global community of peace. And despite the many disappointments since
then, I still carry that torch.